BIG Sharks at SEA LIFE
Follow us on Facebook and Instagram for Shark Week fun facts and activities!
Come face-to-fin with sharks of all sizes at SEA LIFE at Mall of America! See gigantic Sand Tiger sharks, baby endangered Guitarsharks and jaw-dropping green Sawfish in the 300 ft long Ocean Tunnel.
Sharks have lived in our oceans for more than 420 million years! That makes them older than trees! Their brains have evolved to become more intelligent and devoted to their senses – mainly their ability to smell. There are over 500 species of shark in our oceans and you'll meet lots of them when you explore Shark Cove at SEA LIFE!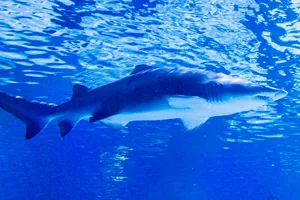 Sand Tiger Sharks
Meet the biggest sharks in Minnesota – the Sand Tiger shark! Growing up to 9ft long, Sand Tiger sharks may look scary but actually are a docile species of shark. Fun Fact: Sand Tiger sharks hold air in their bellies then come up and SPLASH up onto the surface to gulp up more! Amazing!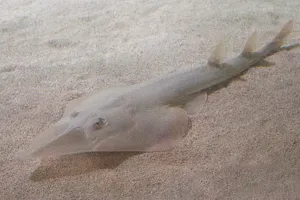 Endangered Guitarsharks Born at SEA LIFE
Meet our adorable endangered Guitarshark babies! SEA LIFE at Mall of America is the first SEA LIFE across the globe, and only the second aquarium in North America, to have had success in breeding these critically endangered creatures.
The 8 Guitarshark pups are helping oceanic experts learn and help this struggling species survive. Sadly, Guitarshark population has declined 91% over the last 40 years and this new birth will hopefully shape breeding in the future for this critically endangered species. You can meet the boys and girls in the Ocean Nursery at Ray Lagoon!
Watch their story on KARE 11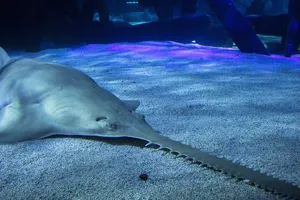 Meet the Green Sawfish - Duke and Dutchess
Meet Duke and Duchess, our pair of endangered Green Sawfish - they're one of the only pairs of sawfish in the United States! Together we hope to preserve their populations by becoming the first aquarium to breed sawfish successfully.
Though they are technically in the ray family, Green Sawfish can grow to be as big as our Sand Tiger sharks! They use their long nose, or rostrum, to swish under the sand and find fish to snack on. Did you know the only place you can see these gentle giants in Minnesota is SEA LIFE at Mall of America?