Bring Your Stars to Meet Ours!
SEA LIFE at Mall of America offers groups the opportunity to explore the creatures that live in our lakes, rivers and oceans through interactive, hands-on experiences. From feeling the spiny skin of a sea star to gazing at sharks swimming overhead, spend the day exploring over 11 zones, thousands of sea creatures and over 200 species in an immersive setting.
Subscribe To Our Newsletter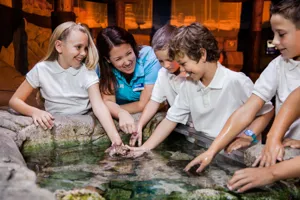 School Field Trips
Introduce students to a range of scientific topics and encourage excitement and curiosity about marine phenomena in the natural world. Ignite imagination and wonder in your class as students come face-to-fin with thousands of creatures and get closer than ever before! 
Discount rates are available for organized, local school groups serving children K-12 grade and must submit tax exempt form with booking or show proof of school ID at check in.
Tickets starting at $10+tax per child, $12+tax for adults 
Minimum of 10 paid child tickets required to receive group rates
For every 5 paid child tickets purchased, receive 1 free adult chaperone ticket
Advanced pre-paid reservations are required a minimum of 14 days in advance
Download the Group Preparation Guide for more details
Tax Exempt School Groups:
If your organized school group is tax exempt, please send a copy of your MN tax exempt document to sales@sealifeus.com to receive instructions on how to make your reservation. 
Buy Tickets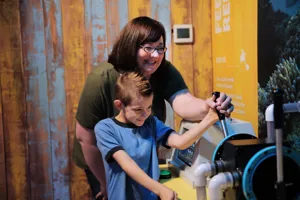 Teacher Resources
FIN-TASTIC Class Resources for the School Year!
We are excited to bring to you a brand new mini classroom teaching unit that introduces elementary school students to focus on what is "Beneath the Tide"  and allows students to explore coastal habitats! These new resources were designed with you in mind to help add additional educational content before, during and after your visit. We also have great self-guided activities for students to do during their field trips. 
See What's New
Education Workshops
Our school programs explore animal behavior, habitats, adaptations, ecosystems, anatomy and water chemistry and are designed to meet Minnesota State Academic Standards. Workshops are available for students are all ages, Pre-k through High School.
Curriculum linked activities
Programs meet Minnesota State Academic Standards
45 minute programs for PreK - 12th Grade
Before and after visit resources
Please note: Now booking educational workshops starting February 1, 2023. 
Explore Programs
PLAN YOUR VISIT
BOOK A SCHOOL GROUP OF 10+ STUDENTS TODAY AND SAVE!  
For every 5 paying students, 1 adult receives free admission
Minimum of at least 10 students required for discounted field trip rates and educational programming
Reservations are required a minimum of 2 weeks in advance.
Schools must enter at their reserved time to guarantee entry.
If additional tickets are required upon arrival, the higher walk up group rate may apply.
All prices are subject to tax. Tax exempt forms must be submitted before payment. 
For more information please refer to the Group Preparation Guide prior to buying tickets.
HOW TO RESERVE YOUR TRIP: 
Paying with Credit Card:
Schools must show proof of organization affiliation at check-in
Payments must be made with a credit card at time of booking.
Payment types accepted: Visa, MasterCard, American Express, and Discover.
Additional tickets cannot be added to your original reservation after your order is made. We suggest booking for the maximum amount of people anticipated in your group.
If you end up having fewer individuals than originally booked, you can contact the Group Sales Department 48 hours in advance for a partial refund of those tickets.
Paying by Check:
Submit our online booking request and a booking coordinator will get back to you within 72 hours.
Payment is due 10 business days prior to your visit date by school check.
Changes including final visitor count and cancellation can be made up until point of payment. Once paid, bookings are non-refundable and non-transferable.
Ready to Book?
If you require further information on school visits please contact our booking team. We'll be more than happy to provide all the information you need to ensure your students have a memorable, inspiring experience. Email: sales@sealifeus.com
SUBMIT BOOKING REQUEST
UPGRADE YOUR TRIP WITH AN EDUCATIONAL WORKSHOP DESIGNED TO MEET MINNESOTA STATE ACADEMIC STANDARDS
In addition to our amazing aquarium experience, we work closely with teachers to develop educational programs to enhance your students' visit. For self-guided field trips (admission only), we provide FREE downloadable materials that can be used before, during or after your trip.
Receive pre and post visit lesson plans and activities
Add a workshop for as low as $3 more per student
10 minimum students required to book
Workshops are not available on weekends, holidays or school breaks
CHOOSE WORKSHOP
WHAT TO EXPECT
FREE downloadable materials that can be used before, during or after your trip.
Schools should plan to arrive 15 minutes prior to your scheduled time. This will allow time for the group leader to check in and SEA LIFE Aquarium staff to provide instructions for the day!
Larger schools and groups are asked to arrange into smaller group segments prior to arrival and entry is staggered to avoid congestion in the Exhibit Areas.
All buses and shuttles are required by the Mall of America Security Team to drop off and pick up students at the North Entrance. Detailed instructions will be provided once your reservation has been made.
SEA LIFE does not have eating facilities on-site. If your group plans on eating while visiting MOA, you may go to either the North or South Food Court both located on the 3rd floor. SEA LIFE can store your lunches onsite during your visit if needed.
Educational Activities: Free Downloads
Receive classroom content & latest news!
Subscribe to our Educator Newsletter and stay connected. We'll deliver our newest teacher resources, keep you in the know of any special offers, educator event invites, friends and family discounts, giveaways and more!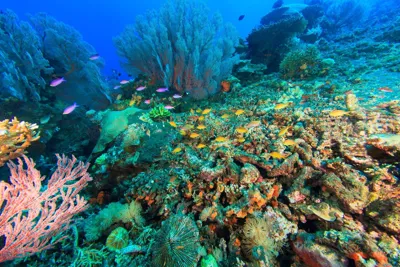 Please note the newsletter signup below is for general consumers, our Educator Newsletter is tailored to meet your teaching needs! Please subscribe with the link above.