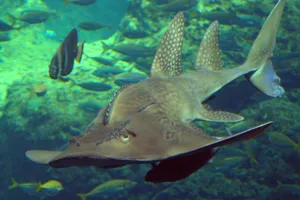 Baby Guitarsharks
Find cute baby Guitarsharks along with their parents all in SEA LIFE at Mall of America.
See the adult Guitarsharks glide above and around you in the underwater ocean tunnel, and find their super-cute babies in Ray Lagoon alongside Cownose Rays.
WHOA - You Need to SEA This!
The Guitarsharks often relax at the top of the underwater ocean tunnel giving you an amazing look at these incredible creatures.
Many creatures are born in SEA LIFE at Mall of America, including the Guitarshark babies!
The Guitarshark pups are helping oceanic experts learn and help this struggling species survive. Sadly, the Guitarshark population has declined 91% over the last 40 years and these new babies will hopefully shape breeding in the future for this critically endangered species.