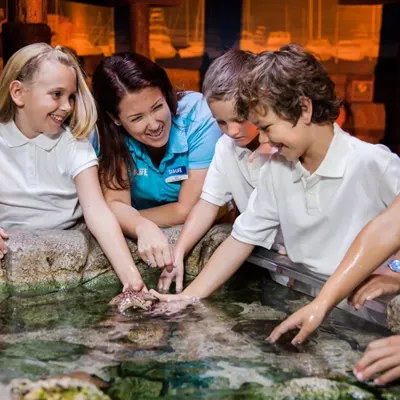 KS2 Habitat Explorers
BOOK THIS WORKSHOP IF… YOUR STUDENTS ARE STUDYING HABITATS AND ADAPTATIONS
Invite students to become Habitat Explorers as they dive deep underwater into the ocean habitats of some of our SEA LIFE creatures! Together they will jump into a world of amazing discovery to learn about the different zones of the ocean and the creatures that live there. Thinking about habitats and adaptation, students will consider the challenges of different micro-habitats in the ocean, matching creatures and their adaptations to the different zones that they discover, and eventually creating their very own creatures!
Students will:
Understand that the ocean is made up of layers or zones and that each is a different micro-habitat for sea creatures
Identify the five different layers or zones of the ocean and understand that different creatures live in the different ocean zones
Identify how animals and plants are adapted to suit their environment in different ways
Identify the advantages and disadvantages of certain characteristics in different habitats
Consider the challenges that creatures face in different ocean zones and how they might overcome them to survive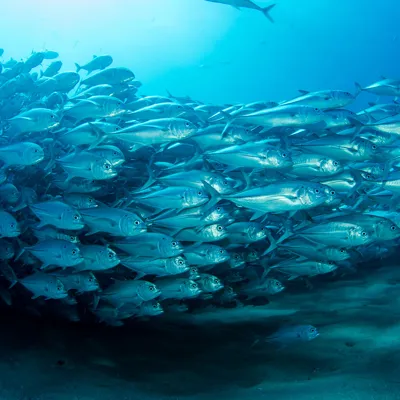 KS2 SEA DEFENDERS: PLASTIC POLLUTION
BOOK THIS WORKSHOP IF... YOU ARE LOOKING TO MAKE A PLEDGE FOR THE PROTECTION OF THE OCEAN
Invite students to become Sea Defenders! They will investigate it is important to protect our oceans, raising awareness of their own relationships with the ocean and how their daily actions can positively or negatively affect the marine environment. Students should be inspired to make changes in their lifestyle and actively contribute towards solutions.
Students will:
Appreciate litter, pollution, and its impact on the world
Identify different materials and which recycling bin they belong in
Understand the terms: biodegradable, non-biodegradable, and plastic pollution
Understand the impact of human behaviours: that marine wildlife can get tangled in fishing lines, nets and plastic pollution
Take action to reduce negative impacts on the marine environment and make a pledge for the protection of the ocean
Please be advised we are currently reviewing our pre-school, KS1 and secondary school education programme. In the meantime, you might like to explore our free lesson plans.
Workshop sessions are available between September - April and exclude the following dates
14/02/22 - 18/02/22
28/03/22 - 19/04/22