SEA LIFE Birthday Packages
Starting At

$680

All-Inclusive Per Package Price

Starting At

$780

All-Inclusive Per Package Price

Calendar Dates
See Available Dates

Calendar Dates
See Available Dates

PACKAGE INCLUDES


PACKAGE INCLUDES


Aquarium Admission


Aquarium Admission


90 Minutes in Private Party Room w/ Host


90 Minutes in Private Party Room w/ Host


Pizza


Pizza


Juice Boxes


Juice Boxes


Mini Bags of Goldfish or Teddy Grahams


Mini Bags of Goldfish or Teddy Grahams


Plates, Napkins, Utensils


Plates, Napkins, Utensils


Party Crowns


Party Crowns


Birthday button for birthday child


Birthday button for birthday child


Mission Pack for Birthday Child


Mission Pack for Birthday Child


Sharky Mascot Meet & Greet


Sharky Mascot Meet & Greet


Take-home customizable coloring bag for each child


Take-home customizable coloring bag for each child

Extras & Add-Ons
$10.00 per group
Includes all digital photos taken at the main entrance green screen (Perfect for a Birthday Group Photo!)  This is a great option for capturing those magic memories! Just $10 and can be added to your online shopping cart before checking out.
$10.00 per person
Go behind the scenes and see how we care 1000s of marine and fresh-water creatures.
Just $10 and can be added to your online shopping cart before checking out.
$6.00 per person
Explore an underwater world of wonder! Dive with hundreds of fish, sharks, and more in a 360° virtual reality experience. Available for purchase on-site. 
Decor & Invitations
Included with all our Birthday Party Packages, enjoy stress-free planning with the following:
Access to our themed private party room for 1 hour


Dedicated party host in your party room
Party crowns for every child
Birthday sticker for birthday child
Party supplies (tablecloths, plates, napkins and utensils)
Refreshments (water or juice box)
All day access to the aquarium after your party
Download SEA LIFE party invitations to print and pass out to party guests or edit the file on your computer and paste it in an email to your guests.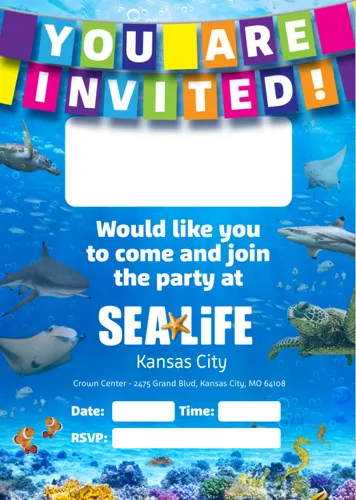 Let's get the party started!
Everything you need to know for your SEA LIFE Birthday Party at Kansas City!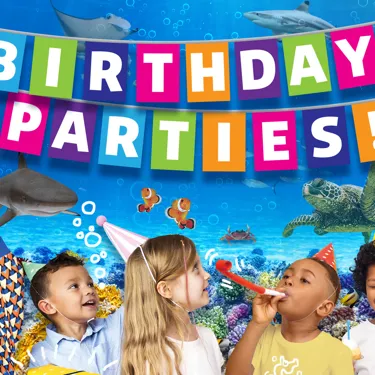 Welcome & Check-In
Once you have arrived at SEA LIFE, you can check in with the admissions host who will assist you!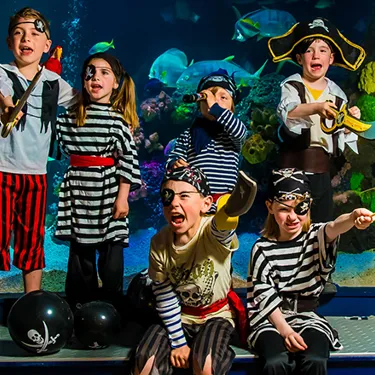 Private Party Room
Our new private party room is ocean themed and accessible for a fun experience for all guests.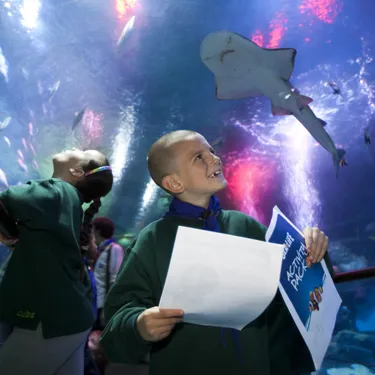 Self Guided Tour & Ranger Packs
Included with Premium and Ultimate birthday party packages, admission into the aquarium and a ranger pack for each guest and child.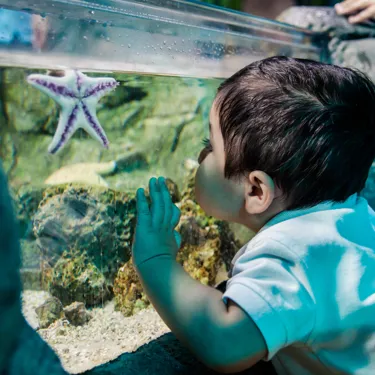 Food & Drinks
All packages include juice boxes, water & individual size bags of Goldfish or animal crackers for each guest. Premium & Ultimate Packages include pizza.
Frequently Asked Questions
Reservations must be booked at least 3 weeks in advance of your party date.
All reservations must be made online. 
Payments must be made with a credit card at time of booking. 

Payment types accepted: Visa, MasterCard, American Express, and Discover. 
Adults and children above the age of 2 attending the party and entering the aquarium are included in the party guest count. This includes the birthday child, family members and friends. Children 2 and under receive free admission but will count towards room capacities. The Birthday Party room has a maximum capacity of 20 people. 
Our party room can accommodate up to 20 guests maximum.
If you exceed this limit, some of your guests will have to purchase their own general admission tickets and remain outside of the party room.
Packages are available at a flat rate, rather than per person. 
Yes! You can bring in store-bought, pre-packaged foods (like cake!) into the party room. Homemade food is not allowed. Food must remain in the party room and cannot be taken into the aquarium exhibits. 
After your time in the party room concludes, SEA LIFE can provide bins to store gifts, party favors, and/or miscellaneous items while you are inside the aquarium. Please note that SEA LIFE is not held accountable for any lost items. If you require assistance getting these items to your vehicle, we will do our best to accommodate. 
Ready to Book?
All parties must be booked and paid in full online to secure your party date. 
Book Now
We're Here to Help
If you require further information regarding our birthday parties, please contact our booking team. We'll be more than happy to provide all the information you need to ensure the best party experience for you, your guests and of course the Birthday Child!  Email: KC.Groups@legolanddiscoverycenter.com